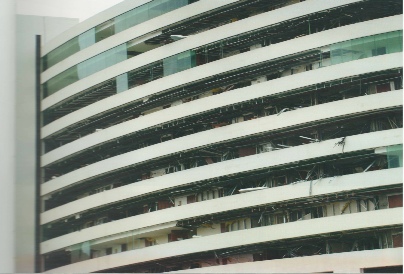 WithoutAstroGuard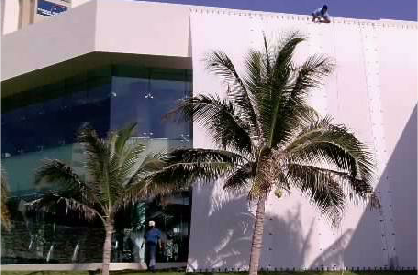 With AstroGuard
AstroGuard Features:

100% UV RESISTANT (SO AS NOT TO WEAKEN THE SYSTEM IN TIME).

MADE FROM BALLISTIC FABRIC (STRONGER THAN KEVLAR).

RATED TO 1,500 PSI OF RESISTANCE/STRENGTH (CATEGORY 5 BRINGS A FORCE OF 1,200 PSI).

CAN WITHSTAND MULTIPLE IMPACTS OF WIND BORNE DEBRIS (PROJECTILES).

10 YEAR WARRANTY SIGNED UNDER US LAW AS IT PERTAINS TO WARRANTIES.

EASY AND FAST TO DEPLOY (NO SHARP EDGES).
EASY TO STORE (JUST FOLD IT UP).

VERY COST EFFECTIVE (STRONGER AND LESS EXPENSIVE THAN EVERYTHING ELSE).
TESTED AND PROVEN BY INDEPENDENT THIRD PARTIES.

ENTIRE SYSTEM OF ASTROGUARD IS TESTED TO BE STRONGER THAN THE STRONGEST HURRICANE WINDS AND PROJECTILES

USED BY NATIONAL GOVERNMENTS TO PROTECT HURRICANE REFUGES.

BALLISTIC FABRIC INVENTED FOR THE APPLICATION OF HURRICANE PROTECTION, NOT ADOPTED FROM A CHILD'S TOY OR OTHER USE.

THE ONLY SYSTEM 100% PATENTED TO WITHSTAND FORCE IN EXCESS OF A MAJOR HURRICANE.

ASTROGUARD DOES NOT NEED ANY TYPE OF MAINTENANCE OVER TIME.

EVEN IF A WINDOW BREAKS, ASTROGUARD CAN MAINTAIN THE STRUCTURAL INTEGRITY OF THE BUILDING ENVELOPE OR OUTER SKIN. (CUTS WIND OFF 100%)

FAR STRONGER THAN, WOOD, METAL, HURRICANE GLASS, AND ALL POLYPROPYLENE FABRICS WHEN CONSIDERING NOT JUST WIND LOAD BUT ALSO, AND MOST IMPORTANTLY WIND BORNE PROJECTILES.

ASTROGUARD IS THE ONLY HURRICANE PROTECTION SYSTEM COMPLETELY PATENTED.

ENDORSED BY TWO OF THE LARGEST CONSTRUCTION SUPPLY CORPORATIONS IN THE USA WITH MARKET CAPITALIZATION OF $46.27 BILLION AND $29.11 BILLION.